Bethesda Academy, a residential and day school for boys in grades 6-12, recently hosted Fort Stewart's 82nd Civil Affairs Battalion for Veterinary Training on the school's campus.
One of the many missions of the 82nd Civil Affairs Battalion is "to conduct veterinary and agriculture infrastructure support in host nations in a variety of global environments and market economies," a spokesperson says.
In order to prepare for these missions, Capt. Mary Avriette, 82nd Civil Affairs Battalion veterinarian, recently brought a group of 'Warrior Diplomats' of the 82nd Civil Affairs Battalion to Bethesda Academy's campus for a hands-on training workshop.
"We're thrilled to help support the military's critical veterinary training efforts," said Brian Byrne, Director, Bethesda Academy Farm & Gardens. "This unique partnership offers our military a chance to work directly with the livestock they will encounter during their missions. In addition, our 9th grade students were also on-hand to benefit from this exclusive training opportunity and were able to listen to the heartbeats of unborn goats in the womb."
Topics that were covered included the proper trimming of goats' hooves; assessment of overall health and fitness of goats, sheep and cattle; livestock handling techniques and interaction methods; and third-trimester health exam on pregnant goats.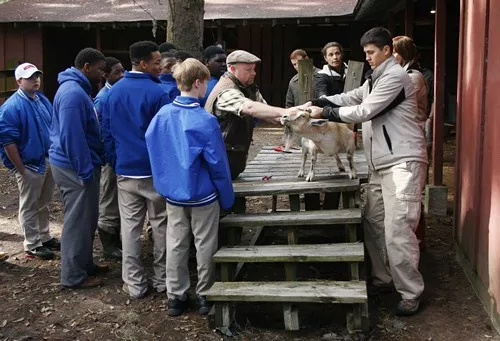 Capt. Avriette most recently returned from Juba, South Sudan in December 2013. While there, her team worked with the South Sudan's Ministry of Animal Resources and Fisheries, the equivalent of the U.S. Department of Agriculture, and the Sudan People's Liberation Army during a two-week operation to enhance South Sudan's veterinary capabilities, which included vaccinating thousands of cattle, goats and sheep against multiple diseases.
"Our main goal of these exercises are to help build enduring civilian-military relationships and help train others in livestock production," said Capt. Mary Avriette, 82nd Civil Affairs Battalion veterinarian.
Future training workshops are planned at Bethesda Academy in March and May and will include instruction on proper livestock vaccination techniques, tagging of animals, pest management and birthing of baby goats.