Savannah City Manager Stephanie Cutter unveiled to City Council today a vision for the site of the proposed new arena and surrounding Canal District.
The plan to redevelop the Canal District to the west of West Boundary Street "presents an opportunity to create a vibrant new center of activity in Savannah's core, integrally connected with multi-modal transportation network serving pedestrians, cyclists, automobiles and rail transit," says a City spokesman.
Sottile & Sottile Urban Design
Canal greenway, artist's rendering
In November, voters will be asked to renew the existing one percent Special Purpose Local Option Sales Tax for a six-year period. Included in the SPLOST proposal is up to $120 million for a new arena. The site chosen for the proposed new arena is a short distance from entrances onto Interstate 16, Interstate 516 and the Talmadge Bridge, and exactly 1 mile from Forsyth Park.
"There is a difference between a site and a vision," said District 1 Alderman Van R. Johnson II. "The site is where the arena will be located, and the vision is the connectivity you've presented here."
The plan relies on publicly owned assets, such as the historic bridges of the Central of Georgia Railroad and the Ogeechee and Springfield Canal, and vacant City-owned property in the area, to create a system of parks, trails and complete streets.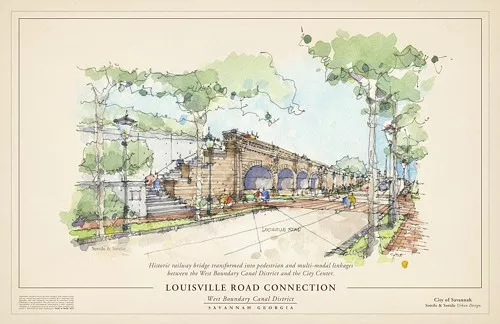 Sottile & Sottile Urban Design
Louisville Road, artist's rendering
"Chatham Area Transit has outlined a desire to extend a streetcar network through the Canal District, linking the arena to River Street," says the spokesman. "Greenways along existing historic canals, and a redeveloped Gwinnett Street would create new pedestrian corridors to the nearby Historic District, which begins at West Boundary Street, less than half a mile away."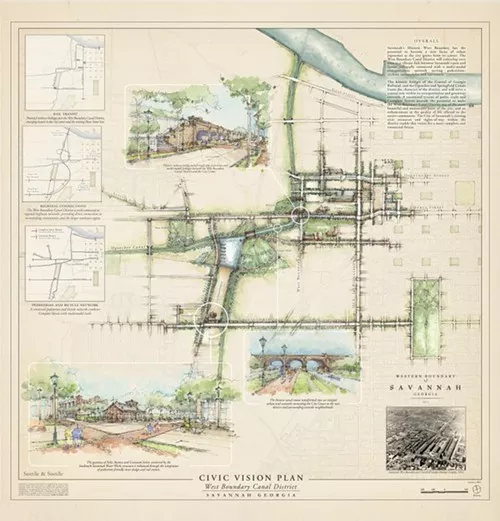 Sottile & Sottile Urban Design
The site plan overview